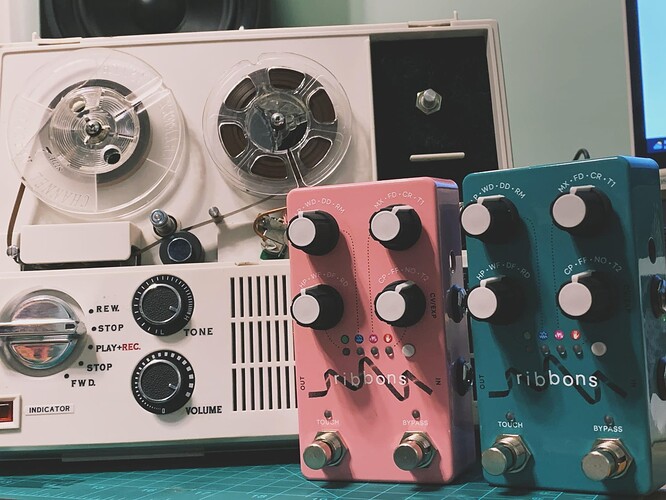 Check out the Ribbons development blog for a download link and a change list. The user manual has also been updated to reflect the changes.
Major highlights are:
Completely re-designed wow and flutter parameters modeled after spectral and waveform data collected from numerous functioning and non-functioning tape players (four track cassette machines, reel to reels, dictaphones, mangled cassette loops, echo plexes, and more). No more boring sine waves!
Four track looper can now be synced to a MIDI clock
Randomized subdivision added to the Repeater touch mode
Transient detection added to the Resampling Repeater
Factory reset option
If you haven't updated from 1.0 to 1.1, then there are some additional highlights:
Improved physical models for dropouts and crinkle. These improved parameters have separate processing / nuances on the left and right channels.
Parameters no longer "jump" as you move from page to page and modify parameters. They're now responsive in a relative way until the knob position and parameter line up. Once they match, the knob will start tracking as you'd expect. This radically improves Ribbons during live performances.
Variable looper write/record speeds are now possible.
You can now adjust the blend between noise and crackles on the noise knob.
How do I know which version of the firmware I'm on?
If you purchased a unit during the month of September, your unit shipped with version 1.0.
If you purchased a unit after October 1st, your unit shipped with version 1.1.
If you purchased a unit after December 10th, your unit shipped with version 1.2.
Instructions for how to update can be found at the end of the Ribbons User Manual. The update requires some simple setup time + 2 mins to run. If you're having trouble updating your unit I can almost guarantee you that the issue is setup related. We've installed the firmware on every unit using this WAV file download method and have performed hundreds of updates and never run into a situation where we couldn't successfully update one. Nevertheless, feel free to contact us if you have any issues and we will happily help you troubleshoot!
We'll also be sharing a video tutorial on performing firmware updates very soon too if you'd like a more hands-on/visual guide.
Thanks!